Published on Jun 27, 2017 7:55pm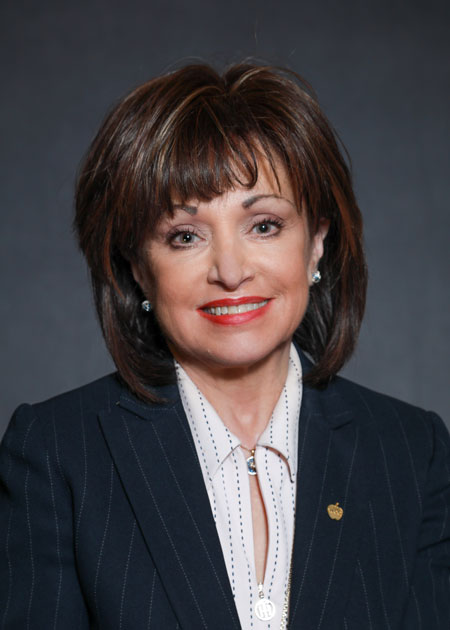 The Washtenaw Community College Board of Trustees voted to extend the contract of President and CEO Dr. Rose B. Bellanca to June 30, 2020.
The vote was held during the Board of Trustees' June meeting. Dr. Bellanca's 2017-2018 salary will be increased by 1.5 percent to $217,522. She will also receive a one-time deferred compensation payment equal to 5.6 percent of her annual salary during the 2017-18 fiscal year.
"The Board is pleased to extend President Bellanca's contract and looks forward to the continued success of WCC under her leadership," Diana McKnight-Morton, chair of the WCC Board of Trustees, said of Tuesday night's 6-1 vote.
The Board similarly approved a 1.5 percent adjustment to the college's independent staff salary and wage rates for the 2017-18 fiscal year, and wage rates as submitted for part-time support staff, club sports coaches and part-time faculty.
Successes under Dr. Bellanca's leadership over the past year include:
The overwhelming approval of a 0.85 operating millage renewal and restoration. The Aug. 2 millage was approved by 70.4 percent of Washtenaw County voters – one of the highest approval percentages in the college's 50-year history. The millage will raise approximately $12.5 million in financial support and allow the college to continue serving the community with affordable, first-rate programs and services.
Tuition has remained affordable. Tuition was increased by only one percent for the 2017-18 academic year for on-campus, in-district students. Additionally, there was no increase in student fees – which have remained the same over the past five years. Few colleges can match that record.
A visionary approach in workforce development, with specific emphasis in the changes occurring in the transportation and mobility sectors. At the 2017 Mackinac Policy Conference, Dr. Bellanca announced the college's new office at the American Center for Mobility, which will enable WCC to develop and deliver emerging mobility skills gap training, establish apprenticeships in mobility technology and provide students with real-world learning opportunities.
An on-campus visit from Michigan Gov. Rick Snyder to view the college's Advanced Transportation Center, a state-of-the-art facility with equipment purchased from the governor's Community College Skilled Trades Equipment Program – a $50 million initiative designed help fill the skilled trades gap and position Michigan as a leader in providing workforce talent in the state.
A presence at the 2017 North American International Auto Show showcasing the college's training programs for mobility technicians. The exhibit was viewed by Gov. Snyder and Lt. Gov. Brian Calley who commended the college for its forward-thinking approach to the rapidly growing mobility job sector. Gov. Snyder was so impressed with WCC's programs, he gave the college a shout out during his 2017 State of the State address.
Proclamations from Ann Arbor mayor Christopher Taylor and the Washtenaw County Board of Commissioners recognizing the outstanding contributions Washtenaw Community College makes to those communities.
The college is highly regarded, vital resource in Washtenaw County. Research shows that WCC has a $373.4 million dollar economic impact on the community.
About Rose B. Bellanca, Ed.D.
Dr. Bellanca is the fourth president and chief executive officer and the first woman to hold the leadership role at Washtenaw Community College. She joined the college in August 2011.
Her community involvement includes serving as Chair of the Region 9 Talent Council – part of the State of Michigan's Prosperity Initiative, as an executive committee member of Ann Arbor SPARK and as a board member for the Square One Education Network.
She has served on a national level as a board member of the Commission on Economic and Workforce Development and the Licensure Committee for the American Association of Community Colleges. Additionally, she has held board positions with the Henry Ford Health System, the United States of America Selective Service, Automation Alley, the Economic Development Alliance of St. Clair County, the Blue Water Area Chamber of Commerce and the Metropolitan Detroit Bureau of School Studies, Inc.
Dr. Bellanca is the recipient of several awards, including most recently:
2017 Outstanding Service In Workforce Development – Michigan Works!Southeast
2016 Mary McLeod Bethune Award – Ypsilanti/Willow Run Branch of the NAACP
2016 Pacesetter Of The Year Award – National Council for Marketing & Public Relations
WJR AM-760 News/Talk Women Who Lead Award – Class of 2016
Dr. Bellanca earned an associate in Applied Arts degree from Macomb Community College in Warren, Mich. She went on to earn a Bachelor of Science degree in Family Life Education, a Master's degree in Education and Industrial Arts, an Educational Specialist certificate in Administration and Supervision, and a Doctorate of Education in Administration and Organizational Studies from Wayne State University in Detroit, Mich.
MEDIA CONTACT: Director of Media Relations, Susan Ferraro, snferraro@wccnet.edu, 734-677-5295.