Michigan governor Rick Snyder visits WCC's exhibit at NAIAS, praises college during his State of the State address
The magic word was "mobility" at January's 2017 North American International Auto Show – and Washtenaw Community College was front and center with an exhibit during Industry Week, which demonstrated its leadership in training the workforce for jobs relevant to mobility and connectivity in the transportation industry.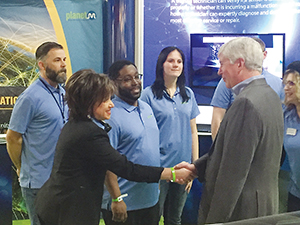 WCC President Dr. Rose B. Bellanca welcomes Governor Rick Snyder to the college's exhibit at the North American International Auto Show.
Fitting in with the show's mobility theme – called "Automobili-D" – WCC's exhibit showed how state-of-the-art sensors in smart and connected vehicles are assessed, diagnosed and repaired. These sensors, now found in most new vehicles, enable vehicles to communicate with each other and to traffic infrastructure — the wave of the driving future.
The exhibit was staffed by Allen Day, WCC automotive services department chair; Al Lecz, director of WCC's Advanced Transportation Center; Susan Ferraro, WCC director of media relations, and WCC automotive students Jesse Tripp and Kali Wealch.
The exhibit was held in the AutoMobili-D/Planet M area of Cobo Hall, which garnered its title from Michigan Gov. Rick Snyder's Planet M initiative, a program designed to position Michigan as global leader in mobility innovation.
The WCC team was honored with a visit to its exhibit from Snyder and Lt. Gov. Brian Calley, who spent time observing instructor Day and students Tripp and Wealch demonstrate how, with equipment from the governor's Community College Skilled Trades Equipment Program [CCSTEP], they are able to assess, diagnose and repair sensors in smart and connected vehicles. WCC President Dr. Rose B. Bellanca; Brandon Tucker, dean of Advanced Technologies & Public Service Careers; Dr. Kimberly Hurns, dean of Business & Computer Technologies, and Michelle Mueller, vice president of Economic, Community & College Development, were also in attendance during the visit.
"We were so proud to have Gov. Snyder and Lt. Gov. Calley visit our exhibit," said Dr. Bellanca. "We were able to bring them up-to-date about our Advanced Transportation Center, its information technology curricula, and the expertise of the college's specially trained faculty. We have positioned WCC as the number one community college for students interested in acquiring the necessary skills for employment in the areas of connectivity and intelligent transportation systems."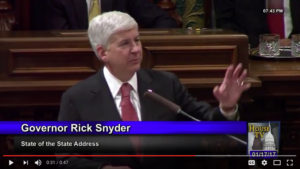 Click to play a video of Governor Snyder praising WCC during his State of the State Address.
The WCC exhibit made such an impression on Gov. Snyder that, the following week during his 2017 State of the State address, he cited WCC's work in training technicians for jobs in the mobility sector — noting that "jobs of today won't be the jobs of tomorrow."
In a later statement, Governor Snyder said that, "WCC is training mobility technicians to understand how to work with cutting edge technology that will be in future vehicles. This is a great example of career connection and the attitude our young people should have when looking at their future careers."
"The Governor's acknowledgment of our programs reinforces the vital role our college plays to meet the demand for a skilled workforce and create a sustainable talent pipeline — which is the key to long-term economic prosperity not just for Washtenaw County, but for the state, the country and the world," said Dr. Bellanca.
To learn more about WCC's programs in the Advanced Transportation Center, visit www.wccnet.edu/atc.
By SUSAN FERRARO, APR
Director of Media Relations