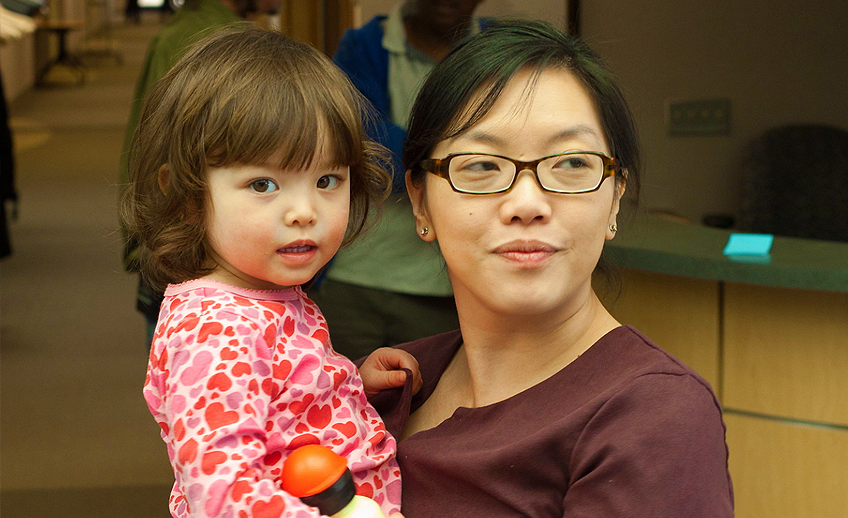 If you are raising children and working to meet your academic goals, you have more to think about than just your studies. These resources can help you manage your current responsibilities while you prepare for a bright future with your family.
Child Care
You may quality for one of our child care scholarships to help cover your child care costs.

Pregnant student rights
If you are pregnant, you have the same access to school programs and educational opportunities that other students have. Learn more about your guaranteed rights.
Lactation room
Our lactation rooms offer a secure place for mothers to pump while away from their nursing children.
Find resources
If you need help with overcoming obstacles and connecting to resources, make an appointment to meet with a case manager at the Student Resource Center (SRC). Case managers are especially sensitive to the special needs of students who are balancing the responsibilities of home, family, and work along with school.
Our case managers will you access:
Grants and scholarships for both educational expenses and childcare

Emergency funding

Quality child care

Emergency food pantry
For off-campus child care, visit Great Start to Quality for a comprehensive list of licensed childcare facilities in the State of Michigan.
Find great online parenting resources from our Campus Assistance Program (CAP) program.
Take care of yourself
You've got a lot to juggle. To take care of yourself and reduce stress in your student family, remember to:

Show your love.

Praise your child.

Create a routine. Structure — such as regularly scheduled meals and bedtimes — helps your child know what to expect.

Find quality child care.

Set limits.

Don't feel guilty.

Lean on others.

Stay positive.

Determine your goals. Make them specific and write them down.

Get organized. Establish a defined, organized place for everything.

Abolish procrastination.

Learn to say "no," especially to demands that:

Don't help you progress in your studies

Don't benefit you and your children