Join WCC's Collegiate Recovery Program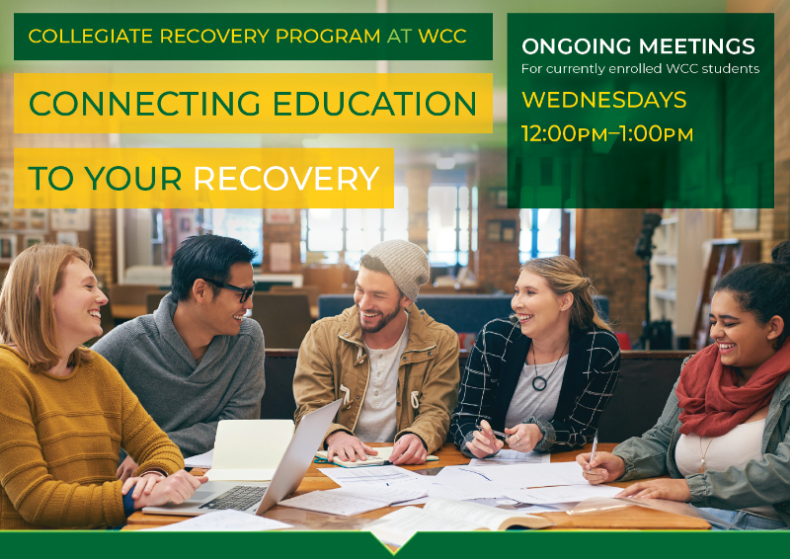 Remote Recovery Support During COVID 19
Addiction recovery support continues at WCC during the pandemic. Our Collegiate Recovery Program (CRP) serves our students seeking recovery from alcohol and other drug addiction remotely while campus is closed due to the pandemic. Peer-to-peer recovery support is evidence based and here for you at WCC. Our mission is to provide a safe and supportive campus community where students in recovery from addiction can achieve academic success and completion. CRP is dedicated to helping our students transition into our community and succeed in the college environment, free from alcohol or other drugs.
During campus closure CRP is offering the following recovery meetings virtually on Zoom:
Weekly Meetings:
Wednesday's, Noon- 1PM

Join Zoom Meeting
The WCC CRP also provides:
Recovery support and accountability from staff and peers.
Academic success support and coaching.
Campus and community recovery information and referrals.
Sober social events.
1-on-1 Meetings with CRP staff
Sober Support Check-ins
What do our students have to say about recovery support at WCC?
"CRP is a place to make connections for your recovery–especially during the pandemic."


"The stability and recovery support that CRP has provided, especially during our campus closure, has been very helpful to me".


"Help is out there. Join Us!"


"CRP provides me with a safe, supportive space in which to nourish my recovery in an academic setting. The world can be chaotic, and relying on the support of the CRP community has helped me stay grounded and connected in these challenging times."
Please contact the CRP Coordinator, Teresa Herzog, at therzog@wccnet.edu for more information.
Community Resources