Step 1: Get Ready
WCC's primary goals for orientation are to help you:
Get connected to technology and other tools to stay in touch.
Learn about support, resources, and academic and student services to help you be successful.
Become familiar with important WCC policies, procedures and timelines.
Get connected
Connecting right away with WCC is one of the most important things you can do.
Student Welcome Center
The Student Welcome Center is an information hub for you to get your questions answered. If you have questions, we have answers!
Set Up Your Net ID
Your netID is your online identity with WCC.
Visit the connection page and follow the steps to set up your account.
Be sure to have your WCC Student ID number (looks like this: @00000000) available and make a note of your password and security questions.
Once you have submitted all information, your account will become active in about an hour.
Student Gateway Dashboard
Once your netID and password are active you are ready to login to the Student Gateway dashboard. The dashboard provides you with access to your WCC email, Blackboard, class schedules and registration, and more.
Watch this video for an overview of the tools in the Student Gateway dashboard.
WCC Email
This is your official college email account. Check your WCC email often, as email communications will be sent to your WCC email account once you become a student.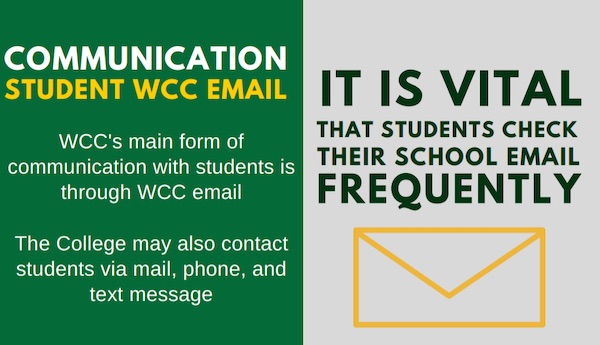 Blackboard
Blackboard is WCC's online learning management system where instructors post course assignments, materials, and related items. This video will help you learn more about Blackboard.
For more information about Blackboard, visit the Blackboard Help tab in the Student Resources section in Blackboard.
ITS Help Desk
If you're having Information Technology (IT) issues, contact the Help Desk for assistance.