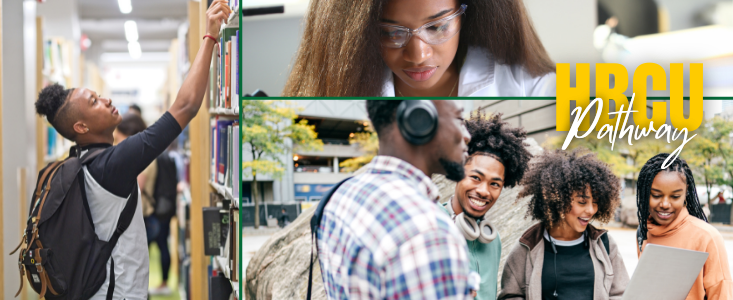 The HBCU Pathway is designed to assist students in preparing to transition seamlessly from high school to an Historically Black College & University (HBCU) upon completion of their associate degree at WCC.
Our primary goal is to keep college tuition affordable for students and families while providing an opportunity that ensures a sense of belonging. Pairing WCC's low-cost tuition rates with an affordable HBCU tuition will help minimize the overall cost for students completing college.
More than 11,000 students enroll at WCC each year to receive one of the best overall values in higher education. Whether you're interested in online or in-person courses, we have the educational resources and renowned faculty to provide everyone a high-quality, impactful education.
Interested in discovering more, complete the form that best fits your interest:
"WCC prepared me for Morehouse College by offering rigorous courses and practical student leadership opportunities. A person who has been educated at WCC and an HBCU is destined to make a positive impact on the world."
- DeVaughn Swanson
Program Benefits:
Guaranteed admission into most partner schools

Access to in-state tuition & scholarships at several partner schools

HBCU campus tour(s) & peer activities

Completion and acceptance of general education requirements upon transfer
Eligibility Requirements:
Must be enrolled or admitted at WCC

Submit complete HBCU Pathway interest form

Participate in program events and activities
Partner Schools:
---
Upcoming Events
---
Washtenaw Community College does not discriminate on the basis of religion, race, color, national origin, age, sex, height, weight, marital status, disability, veteran status, sexual orientation, gender identity, gender expression, or any other protected status in its programs and activities. The following office has been designated to handle inquiries regarding non-discrimination policies: Executive Vice President of Student & Academic Services, SC 247, 734-973-3536. Facility access inquiries: V.P. for Facilities Development & Operations, PO 112, 734-677-5322. If you have a disability and require accommodation to participate in this event, contact Learning Support Services at 734-973-3342 to request accommodations at least 72 hours in advance.