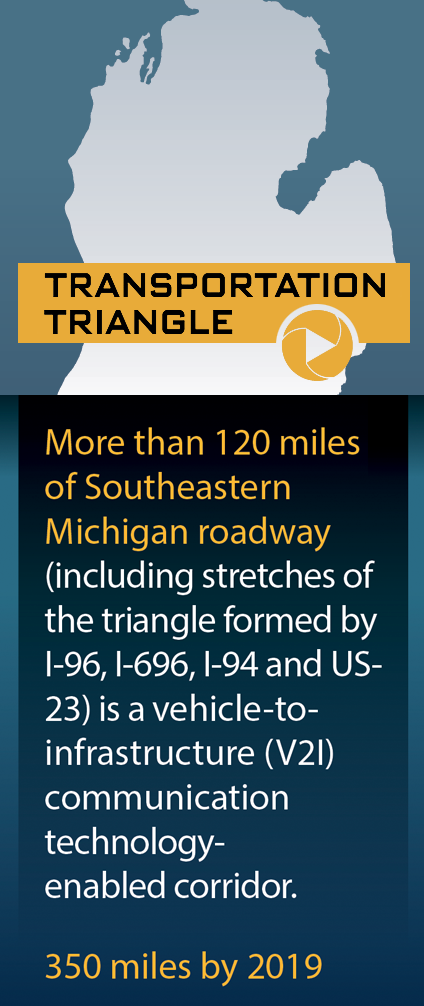 Washtenaw Community College is uniquely located within an area known as the "Transportation Triangle," giving the College access to the world's leaders in connected car development. The Advanced Transportation Center at WCC helps prepare the current and future workforce for the high-wage, in-demand jobs of the emerging advanced transportation industry.
Workforce Training

Over 60 classes to choose from!
Training today to meet the needs of tomorrow: Meeting current and future business and industry needs and providing solutions for next generation mobility, is what we do. Let the WCC Workforce Development team create the talent you need today and tomorrow.
Emerging transformations in technology are opening doors to new career opportunities. We are positioned to prepare the future and existing workforce with training that supports smart cities and advanced transportation in the key areas listed below.
Big Data Analytics
No-Code Predictive Analytics Using Azure Machine Learning Studio
Cloud Computing
Cloud Computing Security Knowledge (CCSK)
CompTIA Cloud Essentials
Connected and Autonomous Vehicles
Automated Vehicle Localization Techniques (online, on-demand classes)
Intelligent Transportation Systems (ITS) Field Technician (online, on-demand classes)
Cybersecurity
Automotive Developer Security (online, on-demand classes)
C/C++ Developer Security (online, on-demand classes)
Capturing, Processing, and Protecting Information
Certificate in Cybersecurity
Certificate in Data Analytics
Certified Chief Information Security Officer
Certified Information Security Manager (CISM)
Certified Information Systems Security Professional (CISSP) 2015
Certified Secure Computer User (CSCU)
Certified Secure Programmer
Cisco 300-115 SWITCH – Implementing Cisco IP Switched Networks
Cloud Developer Security (online, on-demand classes)
CompTIA Security+ Certification
.Net Developer Security
Industry Certification
Database Developer Security (online, on-demand classes)
EC Council Certified Secure Programmer (ECSP)
EC-Council Computer Hacking Forensic Investigator (CHFI)
Embedded QA/Test Security (online, on-demand classes)
IT Architect Security (online, on-demand classes)
Java Developer Security (online, on-demand classes)
Mobile Developer Security (online, on-demand classes)
Payment Card Industry Data Security Standards (PCI DSS) Developer Security (online, on-demand classes)
PHP Developer Security (online, on-demand classes)
Project Manager Security (online, on-demand classes)
Security for Embedded Architects (online, on-demand classes)
Security for Software Architects (online, on-demand classes)
Systems Leadership Security (online, on-demand classes)
Test/QA Security (online, on-demand classes)
Web 2.0 Developer Security (online, on-demand classes)
Security Compliance Procedures – NIST 800-171 – Part I (online, on-demand classes)
Security Compliance Procedures – NIST 800-171 – Part II (online, on-demand classes)
Fiber Optics
Certified Fiber Optics Specialist in Splicing
Certified Fiber Optics Specialist in Testing and Maintenance
Certified Fiber Optic Specialist Outside Plant (CFOS/O)
Certified Fiber Optic Technician (CFOT)
Mobile Technologies
CompTIA Mobility+
Networking
Cisco 300-101 ROUTE – Implementing Cisco IP Routing
Cisco 300-135 – Troubleshooting and Maintaining Cisco IP Networks
Cisco Certified Network Associate (CCNA) 100-105 and 200-105
Cisco Certified Network Professional (CCNP)
CompTIA Network+ Certification
Network+ Security+, CCNA
Operating Systems
Comp TIA A+ 220-901 and 220-902
Comp TIA A+ 220-902
CompTIA A+ Certification
Supporting and Troubleshooting Windows 10
Programming
Java Programming Fundamentals 3.0, Self-Paced
PMI Agile Certified Professional (PMI-ACP) Exam Preparation
Programming in C#
Programming in HTML5 with JavaScript and CSS3
Virtualization
VMware® vSphere: Install, Configure, Manage v6.5
VMware® Horizon (with View): Install, Configure, Manage v6.2