Published on Nov 6, 2017 4:19pm by Richard Rezler, Public Relations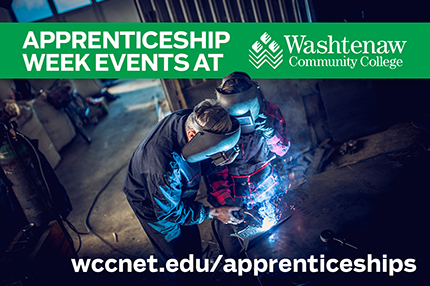 Washtenaw Community College is hosting a pair of events in honor of the U.S. Department of Labor's third annual National Apprenticeship Week.
- Wednesday, Nov. 15: A free luncheon features keynote speaker Anthony Swoope, a retired administrator from the Department of Labor's Office of Apprenticeships, Employment and Training. He will discuss how an apprenticeship program can be a smart answer to preparing the workforce for those hard-to-fill, high-skilled jobs. It will be held from 11:30am to 1:30 p.m. in the Morris Lawrence Building. RSVP at wccnet.edu/apprenticeships.
- Thursday, Nov. 16: Don't miss the free Apprenticeship Career Fair, where you can connect with representatives from four local organizations actively seeking apprentices. It will be held from 1:00 to 4 p.m. in the Morris Lawrence Building. Register at wccnet.edu/apprenticeship-careerfair.
Organizations scheduled to attend include:
International Brotherhood of Electrical Workers Local 252, Ann Arbor Electrical JATC
Hatch Stamping Company
Milan Metal Systems, LLC
United Association Union of Plumbers, Pipefitters, Service Techs, Steamfitters, and Sprinklerfitters with representatives from Local 190 of Ann Arbor and Local 333 of Lansing, Battle Creek and Jackson
In a recent visit to WCC, U.S. Department of Labor Secretary Alexander Acosta spoke about the importance of adding more skilled tradespeople to the American economy, and how that begins with "earn while you learn" apprenticeship programs.