Published on Jul 18, 2017 3:51pm by Richard Rezler, Public Relations
An anthropology/history study abroad trip to the U.K. has a surprise ending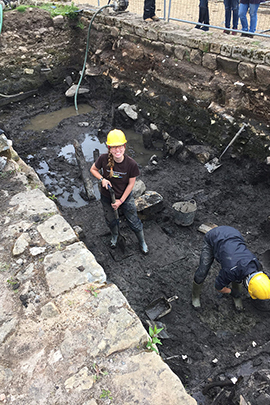 ANN ARBOR, Michigan (Wednesday, July 19) – Nine Washtenaw Community College students were part of an archaeology team that made international news by unearthing 25 well-preserved letters written by Roman soldiers at the end of the first century A.D.
The students were part of a four-week, interdisciplinary WCC study abroad program in the United Kingdom, which included a two-week stint of archaeological excavation at Vindolanda, an ancient Roman fort in northern England.
Although none of the WCC students had previous experience with archaeological digs, they were heavily involved in the process when a cache of wafer-thin wooden tablets, roughly the size of modern-day postcards, were discovered at the bottom of a trench in late June.
WCC students Siena Campo, 19, of Ann Arbor; DJ Holzhueter, 25, of Wyandotte; and Kim McGinnis, 25, of Ypsilanti each recovered what is considered the rarest discovery of the excavation. Scientists anticipate their confronting tablets – two pieces of thin wood folded against each other to protect the writing – will provide the greatest chance of ink being preserved as the complicated conservation process is completed. Also, because most of the tablets found on site were made from birch, the oak tablet Campo found likely indicates a more important correspondence.
"We had been finding fragments of these tablets, so it was unbelievable when I realized this was a complete rectangle, with four right angles," said Campo, who will begin Anthropology studies at the University of Michigan this fall. "The congratulations I got from Dr. Birley was probably the most incredible part."
Dr. Andrew Birley is Director of Excavations at Vindolanda, which has been the site of similar tablet discoveries since the 1970s. Birley's father, Dr. Robin Birley, was in charge of the 1992 excavation that resulted in the last large group of tablets to be found.
"I had hoped, but never truly expected, that the day might come when we would find another hoard of such well-preserved documents again during a day on our excavations," Birley said in a statement on the Vindolanda website. "I am sure that the archaeological staff, students and volunteers who took part on this excavation will always remember the incredible excitement as the first document was recognized in the trench and carefully lifted out."
Those volunteers also included WCC students Elizabeth Barrett, 47, of Ypsilanti; Devin Buhro, 19, of Ann Arbor; Kiersten Frankowiak, 25, of Pinckney; Thor Glenn, 22, of Ypsilanti; Robin Galler, 19, of Ypsilanti; Julia Heinig, 36, of Ann Arbor; and Andrew Stachowiak, 37, of Ypsilanti.
As reported by Smithsonian.com, the tablets were found among layers of dirt and organic waste used as a foundation for a building. Archeologists theorize they were read and then disposed of with the trash. The oxygen-free soil conditions prevented the growth of bacteria and helped in the preservation of the tablets.
"We took a group of community college students with varying degrees of interest in archaeology – there were no requirements to make this trip – and ended up participating in a significant historical finding," said WCC anthropology instructor Dr. Christopher Barrett. "The students represented themselves and WCC very well. The archaeologists at the site were astonished at what a hard-working and conscientious group they were."
Along with the writing tablets, the group also helped unearth a large wooden grain scoop, animal bones, potsherds, coins, gaming pieces, jewelry, leather clothing and other artifacts from two millenniums ago.
The study abroad program was a joint effort by Barrett and WCC History instructor Dr. Ian Rush. Each conducted 10 hours of on-campus, classroom learning in their respective areas of expertise before the group left on its 23-day trip to the United Kingdom. The interdisciplinary approach allowed students to earn six credits – three credits in Anthropology and three in History. The pair plan to offer the program again in 2019.
"Community college students don't often get to participate in such opportunities that are more prevalent at larger universities," said Rush. "So Chris and I were very pleased that we could provide this experience for our students at WCC.
"The most impressive thing to me was watching these students bond over the experience and their love of history and archaeology. In fact, this trip helped several of the students galvanize their future academic plans, which for some will hopefully include graduate school in the U.K."
Prior to the two-week stay at Vindolanda, the group spent two weeks visiting historical sites and museums in London, Canterbury, Dover, Stonehenge, Bath, Chester, Conwy and York.
RELATED LINKS
News reports about the discovery from BBC News, Live Science, The Guardian
Blog written by WCC students during the trip
Compilation of photos from faculty, students
MEDIA CONTACT: Rich Rezler, 734-973-3629, rrezler@wccnet.edu