Published on Jun 25, 2017 9:12am
Wyatt Knick, Ashlea Carravallah and Kyle Cejmer finish in top 10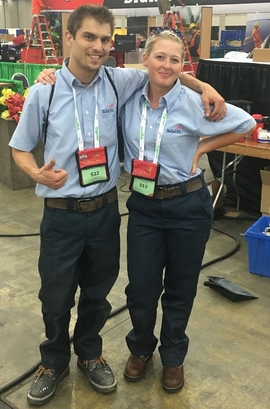 LOUISVILLE, Ky. - Washtenaw Community College has a long, storied history of success in SkillsUSA competition, and six WCC students kept that tradition alive at the 53rd Annual SkillsUSA National Leadership and Skills Conference held June 19-23.
The 2017 SkillsUSA nationals attracted an estimated 20,000 people to the week-long event at the Kentucky Exposition Center. Students competed in a wide variety of skills ranging from automotive, aviation and diesel technology and maintenance to skills such as advertising design, crime investigation, hair styling, culinary, robotics and many other categories.
Although none of WCC's six entrants brought home a national title in the annual showcase of career and technical education students, all returned home with a feeling of accomplishment and determination to continue the pursuit of their trades.
SkillsUSA nationals is a familiar place for Wyatt Knick of Bradford, Ohio. He won the Automotive Refinishing Technology high school national gold medal in 2009 and then added the post-secondary title last year while competing for WCC.
This year, the 25-year-old, two-time national champion opted to move out of his comfort zone and compete in Collision Repair Technology. He won the state title to earn a spot at SkillsUSA nationals, but admitted his experience during this year's competition was a little foreign to him.
He ended with a seventh-place finish.
"It was completely different," Knick said. "It was actually one of the first competitions where I was really nervous. I was out of my comfort zone. I was born and bred a painter at a custom paint shop (Advance Custom Paint in Bellevue), but this was a good challenge and a good experience."
Knick was attempting to be only the second WCC student to win back-to-back national titles in refinishing and collision repair. Phil Davie accomplished that feat in 2007 and 2008.
Ashlea Carravallah took Knick's spot for WCC in the Automotive Refinishing Technology competition. Although it was her first experience at nationals, she came away feeling good about her 10th-place performance.
"It went really well, I think," Carravallah said.
She grew up in an automotive-loving family. Her father works for Ford Motor Co., as do several other family members. But while most of those relatives were adept at putting a wrench on vehicles, Carravallah decided she wanted to carve out a different path.
Using the appreciation of color gained as an artist, Carravallah decided to apply it to the painting side of the automotive industry. She joined the WCC program only six months ago, but quickly adapted and won the state title, beating out two men who paint cars and trucks for a living, her instructor Bobby Feldkamp said.
"I've always been in the arts. I've always drawn, and sang and played in a band," Carravallah said. "Transitioning to Automotive Refinishing was natural for me, especially when it comes to matching colors. Everything has a variation and to be able to identify what it means and how to match the colors is something I enjoy."
Carravallah says she has three more classes to take in order to become certified. Then her next step will be to find a job in a body shop where she can ply her trade. Until then, she's happy painting forklifts for Anderson Material Handling, a challenging job in itself.
WCC's welding program also enjoys a renowned worldwide reputation for excellence.
Five have won overall welding national gold medals (Glenn Kay in 1997, Miles Tilley in early 2000s, Joe Young in 2009, Brad Clink (2011) and Alex Pazkowski in 2013. Pazkowski also won a silver medal at the world competition in Leipzig, Germany, that same year.
Pazkowski is now a full-time welding instructor at WCC, one who continues to instill pride and work ethic in students following in his path.
"The people that do SkillsUSA are not lazy. They take pride in what they do. People seek this out; we don't recruit them t do this on purpose," Pazkowski said. "We want them to come to us to compete. It's another thing to add to their resume, but these people are hard workers who want to learn and improve. They have the drive and work ethic to excel in this industry and they usually do."
WCC welders in this year's nationals were sophomore Kyle Cejmer in overall welding, and the trio of Lindsay Nye, Anthony Sprow and Corey Brown in the Welding Fabrication competition.
Cejmer finished eighth in an event that required him to perform skills in cutting, stick, metal inert gas (MIG), tungsten inert gas (TIG), aluminum and flux-core welding. His brother, Jeff, finished third in last year's nationals and served as motivation for Kyle to give it a try. Both work at VulcanMasters Welding Company in Detroit, with Kyle having his sights set on working for a big corporation such as DTE Energy.
"I thought I'd be very calm here, but when it started I was very nervous. I kept telling myself to calm down and used some techniques I learned to get on my 'A' game. It was a great experience to come and compete against the nation's best," Cejmer said.
The fabrication team didn't place among the top 10, but that won't impact their desire to continue pursuing their careers in welding.
"The experience we all got, to hold ourselves up to that caliber of welders was all worth it," Nye said.
Sprow, of Ann Arbor, has his sights set on pursuing welding engineering with an even more specific goal.
"I would like to own my own business and build hot rods," Sprow said.
Brown, meanwhile, left nationals and headed off to a job working in a research and development shop for Rousch Performance. He also has another idea in mind, however.
"I would like to work in my barn outside my home one day," Brown said.
Louisville is scheduled to host SkillsUSA nationals again next year.