Published on May 17, 2017 2:39pm by Richard Rezler, Public Relations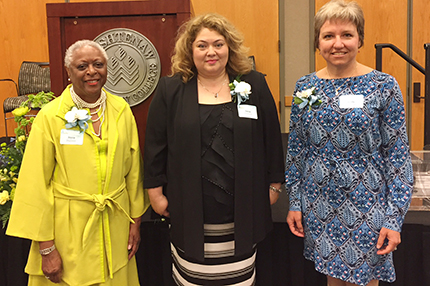 The Washtenaw Community College Foundation's Women's Council honored three extraordinary women at its annual Salute to Women's Leadership luncheon.
A sellout crowd of more than 320 people attended the 20th annual luncheon on Tuesday, May 16, at the Morris Lawrence Building on the WCC campus to honor Anya Abramzon, Joyce Hunter and Kelly Parent; and to hear from keynote speaker Barbara McQuade, the first woman to serve as the U.S. Attorney for the Eastern District of Michigan.
Related: See Photo Gallery from Event
McQuade, who recently joined the faculty at the University of Michigan Law School, took the stage following the presentation of leadership awards and called each of the recipients' remarks inspiring.
"To those women who lead – the door has been throw open for those who come after you," she said. "Seeing is believing. When young women see you in leadership roles, they begin to see themselves in those roles and go on to do great things."
McQuade shared a story about first becoming a prosecuting attorney. On her first day in court, she was asked if she was the court stenographer.
"We still lack the leadership at the highest levels of public and private life," McQuade said, noting that just one of the region's highest-paid CEOs – Mary Barra at General Motors – is a woman. "Lead because you want to serve. Focus on the work you like and find opportunities to accomplish something."
During the 2017 Salute to Leadership luncheon, this year's awardees, listed below, shared inspiring comments to luncheon attendees:
Anya Abramzon
The Executive Director of Jewish Family Services (JFS) of Washtenaw County since 1997, Abramzon has led the agency from a small, one-room office with a $35,000 annual budget to a nationally acclaimed social service agency serving nearly 9,000 people per year with a budget of $2.8 million. JFS of Washtenaw County provides an array of clinical and social services to people of the county regardless of race, religion or national origin. It serves many vulnerable populations, but especially older adults, with services that include care management, transportation, food delivery, friendly visits and help with medical appointments. Its food pantry supports more than 5,700 people.
The JFS of Washtenaw County also focuses on refugee resettlement for immigrants of war-torn countries; helping refugees integrate and achieve self-sufficiency. As an immigrant from St. Petersburg, Russia, Abramzon understands the struggles of refugees and immigrants. She has changed the lives of hundreds of people in Washtenaw County, ensuring all JFS clients have an opportunity to realize their potential.
Abramzon says: "It's a great honor to be in the company of the other nominees. Twenty years ago, I was fresh out of graduate school with no experience and big dreams. Since my journey at JFS, I've connected with people who have enriched my life."
Joyce Hunter
After spending a career working as a teacher, department chair, class principal and assistant superintendent for secondary education in Ann Arbor public schools, Hunter continues to work passionately for many organizations. She is the president and founding member of the African American Cultural & Historical Museum of Washtenaw County; a member of the Ann Arbor Rotary Club, where she co-chairs the Strive Committee to provide mentors and WCC scholarships to high school students, and the Service Above Self Committee, which awards scholarships for WCC students.
Hunter is also vice president of the Pears of the Ivy Foundation for the Alpha Kappa Alpha sorority, the oldest black women's Greek letter organization in the nation; a past president of the Ann Arbor chapter of the National Association of Negro Business Women's professional club; and serves on the board of directors of Girls Group, which encourages middle school and high school students to achieve emotional and education self-sufficiency by graduating from high school and becoming a first-generation college graduate.
Hunter says: "Thank you to the Women's Council for selecting me for this very special honor. I'd especially like to thank my mother, Ida Shelton, who is 91 years old. She taught me the importance of making a difference. Today, we are celebrating some amazing women."
Kelly Parent
After her then-9-year-old daughter was diagnosed with brain cancer, Parent became an advocate for patient and family-centered health care and volunteered as a family advisor at C.S. Mott Children's Hospital. Her daughter has since graduated from the University of Michigan, but Parent continues to lobby for funding of pediatric cancer research and health care programs for under-served children. In 2007, she was hired as the first Patient and Family Centered Care program manager at the University of Michigan Health System to create and oversee a patient and family advisor program.
Today, Parent serves as program director for patient and family partnerships for the national non-profit Institute for Patient- and Family-Centered Care. She also consults with hospitals and health systems to incorporate family-centered care concepts into their organizational goals.
Parent says: "It was my daughter that provided me the direction and conviction to keep moving forward. My daughter battled for her life – she was so strong and selfless. She opened my eyes to the outside world and opened up a silver lining."
The WCC Foundation Women's Council luncheon started in 1997 with a goal of creating an endowed scholarship for women. Since then, the event has raised more than $600,000 and expanded to fund scholarships, grants for childcare, books and emergency needs for WCC students.
The council also established a peer mentoring group with the Student Resource Center, which allows the sharing of first-hand knowledge and insightful advice to students.