Published on Oct 27, 2014 8:11pm
Community supports WCC more than ever before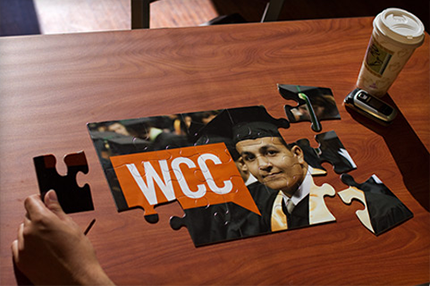 The Washtenaw Community College Foundation has raised over $8 million over the past 18 months in cash gifts and pledges to support students at Washtenaw Community College. This represents the largest amount of funds ever raised in a collective effort at the college.
Campaign chairs Tim and Laurie Wadhams made the announcement at a celebration ceremony on Oct. 27 at Washtenaw Community College. In attendance were WCC President Dr. Rose B. Bellanca, campaign committee members, WCC Foundation Board of Directors, WCC Board of Trustees members, WCC faculty and staff, alumni and community members.
"This is a historic day," said Dr. Bellanca. "On behalf of the current and future students of WCC and our Board of Trustees, we are incredibly grateful to all who so generously gave of their time and resources to this incredible effort. As a result, opportunities will abound for those who want to enrich their lives by pursuing their educational dreams and goals."
All funds raised will benefit WCC students in three areas:
Access: Additional scholarship opportunities for students who face financial barriers.
Success: Student support services, such as childcare, transportation, tutoring and mentoring, to ensure educational goals are accomplished.
Innovation: New teaching and learning methods and advanced technologies in the classroom.
"Laurie and I are so proud to share in this effort, particularly given Laurie's positive experience at WCC many years ago," said Tim Wadhams, former Masco Corporation President and CEO. "To date, the donor response has been tremendous. A major part of our success has resulted from the commitment of Dr. Bellanca, her outstanding team and their tireless efforts to position WCC for the future. WCC is an amazing place, where exceptional leadership and an outstanding faculty pursue excellence to make a huge difference in people's lives. These funds will allow more people in our community to benefit by enhancing access to one of the best community colleges in the country." 

"What's been incredible are the relationships that have been formed when reaching out to donors," said Foundation Chair Betsy Petoskey. "Hundreds of people now understand the myriad ways WCC provides value and economic vitality to our community."
Learn more about the WCC Foundation today.