I think I can go ahead and say that thus far, my birthday has never been boring. This year, I turned 25 in London, and the day turned out to be far more of a whirlwind than I expected. On the bright side, today was definitely the day we got to play tourist. If you could think of the most stereotypical London sights, June 3rd was the day to see them.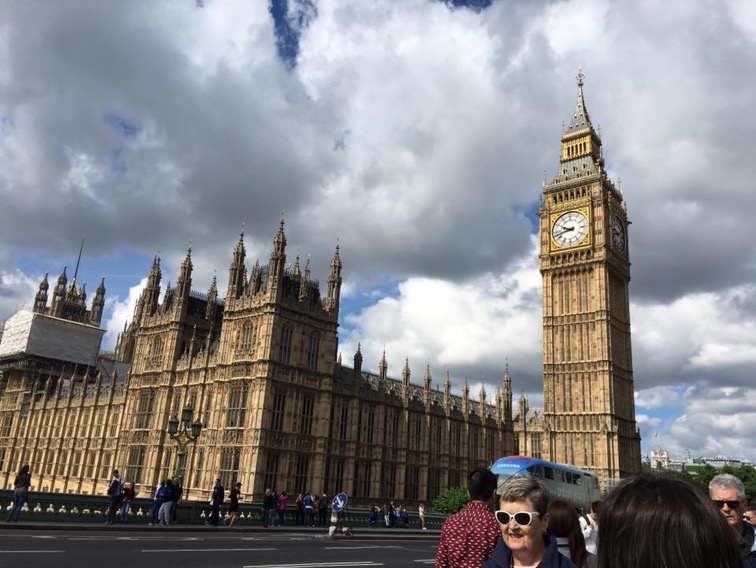 Our itinerary for the day essentially amounted to a walking tour of the Westminster area, including the Houses of Parliament, Westminster Abbey, St. James Park, Buckingham Palace, and Trafalgar Square. In my mind, I always thought that all the places we saw were all further apart from each other, but most of these sites are concentrated all within walking distance. (So, no, Robert Downey Jr's Sherlock Holmes got it wrong because unless you're Usain Bolt, there's no way you can run from the Houses of Parliament to Tower Bridge.)
One of my personal favorite spots was the statue of Boudicca, the queen of the Iceni Briton tribe who led a revolt against the Romans in the first century, AD. I've always had a soft spot since I learned about her for the first time, and I think a few of us who had done the History of England course with Dr. Rush felt roughly the same way. Boudicca was queen at a time when female figures of authority and power were something more from legend than actual fact. It's not hard to imagine how shocked the Romans would have been, not only for the fact that she was a queen, but at the level and scale of the destruction her rebellion caused.
Her statue is on the banks of the Thames, depicting her in a war chariot, flanked on either side by her daughters. Boudicca directly faces Parliament, her spear raised and her face defiant. There are lots of ideas you can project onto it, especially learning that behind Parliament, statues of people like Churchill, Gandhi, Nelson Mandela, and Abraham Lincoln stand. Boudicca stands alone on the other side, and her pose is far more warlike and threatening than her male counterparts.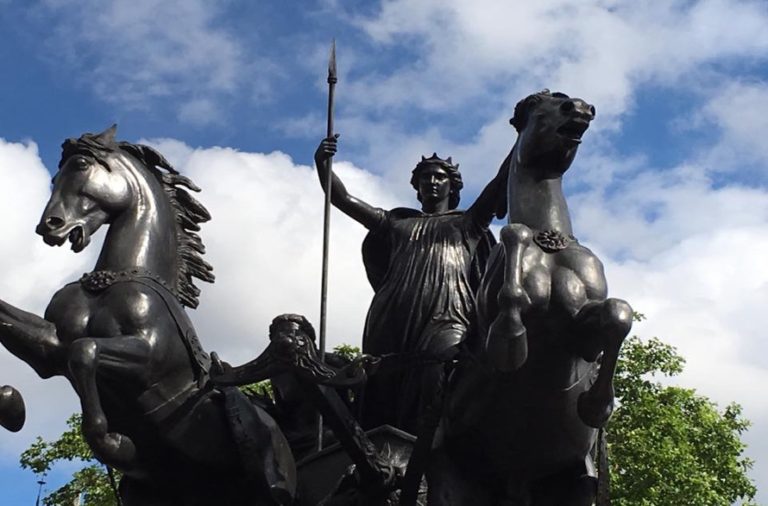 (Right on, awesome lady.)
Our tour continued past Westminster Abbey, and although I'm sure it would have been awesome to go in, there was such a long line there that I probably would have turned 26 by the time we got in. All the same, we had plenty of time to admire the architecture and to check out its smaller but still lovely neighbor, St. Margaret's. I absolutely did still geek out like it was my job, because it's Westminster Abbey. There's only a couple centuries worth of coronations, weddings, and funerals that have been held in it. No big deal. (Spoilers: huge deal!)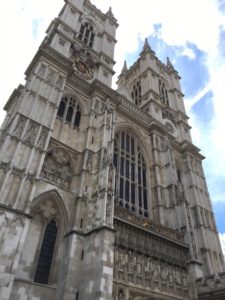 (Pictured above: an absolutely huge deal)
From there, we went through St. James Park, home of some of the coolest birds and friendliest pelicans (!) that I've ever seen. We got the inkling that something was going on because of the police presence around the place, and that someone had mentioned that the Changing of the Guard ceremony was being held off for the day. By the time we got to Buckingham Palace, it was pretty obvious by the size of the growing crowd that something was about to happen (I told myself it was for my birthday, because clearly).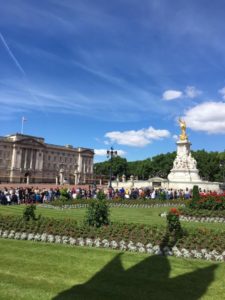 It was also obvious that whatever was happening, it was taking its dear sweet time proceeding. Our group eventually filtered our way down the road, where we managed to catch an enormous procession of horseback riders, a band, and what seemed like the entire guard. A little extra research revealed that it was a rehearsal for the Trooping of the Color ceremony for the Queen's birthday. Or, as I like to think, a whole parade for my birthday. So thank you, royal guard of Britain. I appreciated it.
We made our way to Trafalgar Square, which may very well be the most London-ish place in London. At any given moment, standing near Nelson's Column, you can catch sight of multiple red double decker buses, black taxis, street performers, and hordes of tourists in the mad scramble. There's half a dozen pubs and restaurants, all advertising pints of ale or stout, fish and chips, and everything else your little tourist heart could desire. Everything is covered end to end in Union Jack flags and displaying silhouettes of Big Ben, the London Eye, and all things recognizably London. Survey says?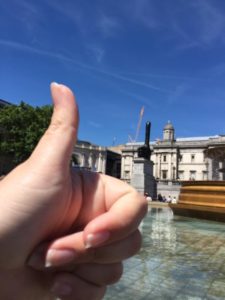 Two thumbs up!
We decided to break up our group here, and I went with Dr. Barrett, his wife Liz, Dr. Rush, Kim, Julia, Andy, and Robin to Garfunkel's, where we were promised the pinnacle of British cuisine. Not only was the food awesome, but I even got the time-honored tradition of getting served cake (sticky toffee cake to be specific) and being sung to for my birthday. Humiliation, complete. Excellent birthday, even more complete.
Andy, Julia, and I split off again once we were done with lunch, and I led us, via personal interest, to Maritime Greenwich. Here's where my geekiness shows in full form, because I had been chomping at the bit since takeoff to go to the Old Royal Naval College. One of my biggest personal interests is in old maritime history, and a reoccurring theme in my research is the Naval College for a variety of reasons. The chapel on the college grounds, for instance, is home to one of the very few memorials to the 1845 Franklin Expedition (I'll be merciful and spare anyone reading the details, because I could be here for a week). In short, it was a failed British expedition to complete the Northwest Passage, which resulted in the entire crew and ships going missing for about a century and a half. Both ships were found very recently, but the whereabouts of the crew are still kind of a dicey subject. Regardless, I'd have to say the main memorial has a pretty amazing home.

Unfortunately, it was a little too late in the day to check out any of the museums in the area. Still, we got to go down to the banks of the Thames at low tide, and got another reminder of exactly how old London is. All along the banks were washed up bits of pottery, bone, and glass. It's impossible to tell where all these objects came from, or when they were thrown into the river, but I was told that it's completely possible that a piece of pottery can be from the 1600s, a pork bone might be from the late Victorian era, and all of that could be thrown together with some cast off garbage from the 1960s, or yesterday as far as anyone knows. Plenty of people go down there for beachcombing while they can, because a few hours can find the river right back up to its high tide mark, hiding everything it left.
After this, we were all pretty tired still, since despite being in the home of time zones (Greenwich Mean Time), our bodies still weren't quite out of Michigan yet. We went back to the hostel for the night.
I got plenty of texts, messages, and phone calls from friends and family for what happened next, but fortunately I get to say with completely honesty that I have never felt safer during a bad situation. Near 11:30 at night, all the girls in my room noticed the amount of sirens we could hear. Every few minutes, it seemed like another ambulance was racing down the road. When we heard a helicopter overhead, we knew something had happened. My brother was the first to text me, and sent me a short article saying there had been an incident on London Bridge near Westminster, followed by another incident shortly after. At the time, no one really knew if it had been an accident (our first report was that a drunk driver had plowed into some pedestrians on the bridge) or something done on purpose. As the night went on, it was clear that it had been an intentional attack. By midnight or so, Facebook gave the option of marking yourself safe during the London Bridge Attack.
There are two things I have to say about the situation; one factual and one opinion or observation. The factual bit is that, fortunately, Tower Bridge and London Bridge are nearly three miles apart in walking distance. Many of us had been in the area earlier in the day, which was kind of a harrowing, humbling realization. However, all of us were back in the hostel by the time of the attack, but it did serve to remind us how important it was to stay in groups and to mind our personal safety. The staff of the hostel did an excellent job making sure that we were safe.
My observation that night and in the days to come is that the British idea of 'Keep Calm and Carry On' is a very real thing. The people of London continued on, and there was even a television report of people going right back to the restaurant closest to the attack to prove that they weren't afraid. If anyone made the argument about how frightening the attack was, and how debilitating it must have been, I think the general consensus of the city would have been something like, "Yes, it was horrible, but life goes on." There were no lack of memorials for the victims, but there was also this air of defiance, like the whole city refused to be afraid. I personally think that might be one of the most commendable traits of the British, and one that helped me feel safe walking in the streets no less than twenty-four hours after it had happened.