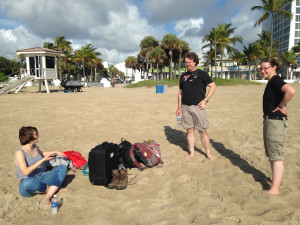 The anthropology group and I landed in Fort Lauderdale, Florida as dawn crept above the Atlantic Ocean on June 15. We checked in our bags before we took a taxi to breakfast, breaking the three week trend of rolls and eggs we ate during the trip.
A cafe with a view of the beach was a perfect venue for our first breakfast on American soil. Finishing our food, we strolled along the beach and savored being back in the United States.
After we soaked some rays, we took a taxi back to the airport for our final leg of the trip to land in Detroit. All of our bags made it safe and sound. Everyone also had rides to take them home.