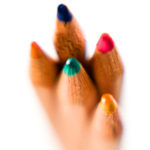 Graphic design is everywhere. It is in our homes, on our screens, in the businesses we frequent, and in the environment around us.
Graphic Designers are problem solvers that work with illustrators, copywriters, photographers, and other creative people to combine word & image, magazine layouts, electronic publications, product labels and packaging, brand/logo identities, websites, billboards, books, posters, advertisements, and more.
Our faculty—all of whom are practicing, industry professionals—work closely with students to develop and cultivate a deep understanding of the design process from concept to execution to production. We teach graphic design principles and practices alongside industry-standard software and apply it to practical, real-world design problems.
Our students come to the program with an interest in a creative field, passion, inspiration, and willingness to learn and leave with computer skills, the ability to sketch and concept, a passion for typography, a developed eye, and a professional resume and portfolio that shows it all off. They go on to work in advertising agencies, publication, design firms, marketing and public relations companies, and become freelancers.
Interested in a career in Graphic Design?
If you're thinking about studying Graphic Design, consider Washtenaw Community College. We have both a Certificate in Graphic Design and an Associate Degree, and have transfer agreements to College of Creative Studies (CCS), Eastern Michigan University and Savannah College of Art and Design.
Student Work