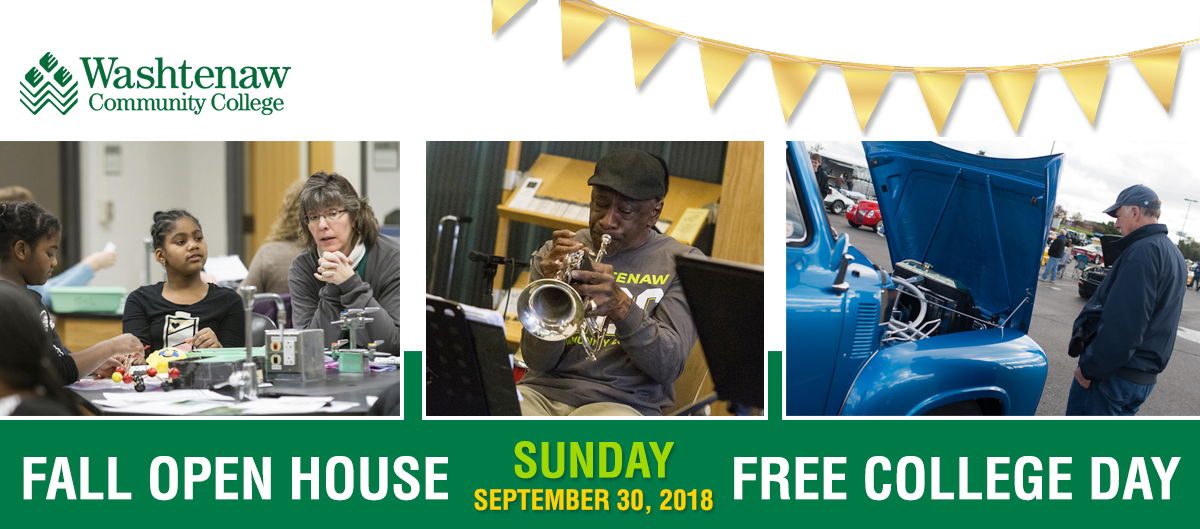 Open House
11:30am to 3:00pm
Join our Campus Scavenger Hunt! WCC Labs are open to the public – see an operating room, participate in a welding competition, view an art exhibit, try out airbrushing, see a 3D printer and Dyanometer in action and much more… Complete the scavenger hunt for a chance to win an:
Apple Watch 3
Party in the Park, held in Community Park, is a mini-carnival with games and activities for kids of all ages.
Health & Wellness Center
Tour WCC's LEED certified Health & Wellness Center. Join after your tour and receive 75% off the base enrollment fee.
Tell Me a Story
(12:00pm – 1:00pm)
Jennifer Mann, a WCC Librarian and well-known storyteller with the Michigan Humanities Council, will delight audiences in Community Park with an open forum of stories and tales.
Open Arts – A Live Performance
(2:15pm – 3:30pm)
Just when you thought you couldn't have any more fun join WCC students, faculty, staff and alumni as they showcase their talents. This live performance will delight all ages with music, dance, poetry, and theatre. An artist reception will follow the presentation.
Towsley Auditorium, Morris Lawrence building.
Pre-registration is not required to attend Open House activities.
Cars & Bikes on Campus
11:00am to 3:00pm
Get your motor running for Washtenaw Community College's 15th annual Cars and Bikes on Campus! Featuring cool cars, amazing motorcycles and revved up competitions, this show is sure to thrill enthusiasts of all ages. Join us for music, food and age appropriate activities for children.
No dogs please.
Pre-registration is not required to attend Cars & Bikes on Campus.
Free College Day Classes
Twice a year, Washtenaw Community College opens our doors for Free College Day. This popular event is a chance for us to share the exciting educational and life changing opportunities our students get to experience every day with our community.
In the fall, WCC hosts a campus-wide celebration that includes Free College Day classes, Cars & Bikes on Campus, Party in the Park, a scavenger hunt, Health & Wellness Center open house, and more!
In the spring, we take it back to our roots with Free College Day classes that highlight the breadth and depth or our programs.
Choose from classes taught by our WCC full, part-time and community enrichment faculty on a wide variety of topics.
Registration required (opens September 5). Children under 14 are welcome with an adult.
*Food will be available for purchase.